Financial service professional excels; recalls experience selling knives
Posted on Thursday, January 17, 2013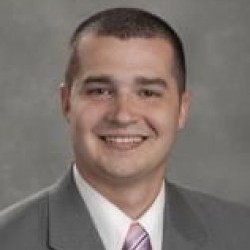 SYRACUSE, NY – The only thing Darren Grahame was thinking about that one day in the drive‐through window at the local McDonald's was whether the next customer wanted to "Super Size" an order.
Little did the junior at the State University of New York/Binghamton know that the next customer would be a friend from high school offering him a business card and an opportunity. It would result in Grahame landing a summer position that would launch him on a path to become one of the top financial advisors in the Syracuse office of Northwestern Mutual.
He made the call to the local office of Vector Marketing, the direct sales division for Cutco Corporation, the largest kitchen cutlery manufacturer in North America. During the interview, he learned that the position involved selling high‐quality, Made‐In‐America kitchen cutlery through in‐home personal demonstrations. What Grahame didn't realize during that summer of 2003 was that the skills learned selling knives would prepare him for a career in the financial services industry.
"After several days of training, I was ready to make appointments, initially to friends and family, and sell what I found to be the finest cutlery on the market," said Grahame. "I quickly learned that selling Cutco was about much more than knives. It was about developing a relationship of trust and integrity with my customers, frequently sitting in their livings rooms or at the kitchen table. This would be of great importance when I joined Northwestern several years later."
That summer Grahame sold more than $25,000 in cutlery, giving him a very solid summer income. During the next three summers he moved up the ranks, running his own branch office and a district office which recorded more than $1 million in annual sales. In addition, to his own sales, he also recruited and mentored younger students who joined Vector Marketing as independent contractor sales representatives.
Today, Grahame has similar responsibilities with Northwestern. He manages his own book of business, but also recruits and trains new hires with this organization. And, he continues to sell in living rooms and at kitchen tables. Now it's life insurance, mutual funds, and other financial products.
"It's amazing how my experience with Cutco put me in a position to excel as a financial advisor," he said. "One of the major benefits was conveying value in products. No one wakes up and says, 'I have to buy knives today.' It's very similar when discussing the value of life insurance.
"In both cases, the products must be sold by conveying value and trust. With Cutco, it was all about discussing the Forever Warranty and that customers would never have to buy a replacement. With insurance and other financial products, it's about discussing security for your family. Both products give people peace of mind."
Grahame learned other skills through his experience with Cutco.
"When I first started with Cutco, I pretty much had to build a customer base from scratch," he recalled. "I had to ask for referrals and learn to be resilient and deal with rejection. There were a lot of ups and downs. It's all part of being in sales."
"Many college graduates join Northwestern and are petrified about making calls to set up appointments," he said. "They're afraid of rejection. But by the time I joined Northwestern I had already made thousands of appointment calls. It was really no big deal."
He quickly learned that working for a commission has its benefits.
"I really liked the independence and knowing that I could control how much I wanted to work and how much I could make," he said. "Many people want the security of a salary, but those of us who sold Cutco became accustomed to being entrepreneurs."
The Cutco experience also honed his time management and presentation skills, all key as a financial services professional.
"It is very clear that I wouldn't be where I am today without the experience and skills gained while selling Cutco as a college student," he said.
The Northwestern Mutual Life Insurance Co., Milwaukee, WI (life and disability insurance, annuities) and its subsidiaries (NM). Northwestern Mutual Investment Services, a subsidiary of NM (securities), registered broker dealer, registered investment adviser, member FINRA, SIPC.